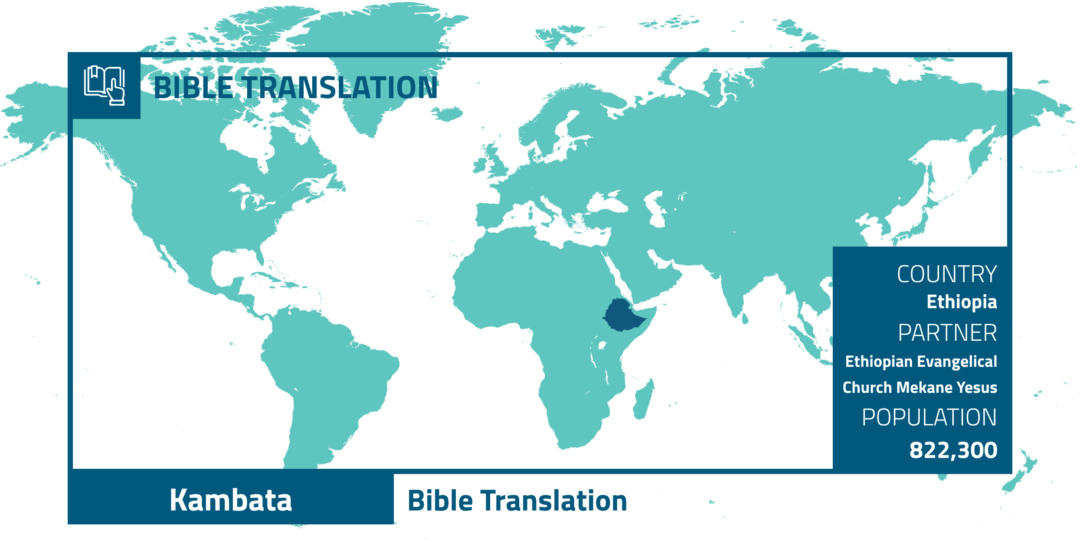 Though Christianity is the predominant religion among the Kambata people of south-central Ethiopia, they are still waiting for the full Bible in their language. A shortage of funding is hindering the completion of the Old Testament and revision of the New Testament. 
Scripture portions are being shared with the Kambata community as they become available. People are encouraged to use translated Scripture for all worship activities as well as personal study. With adequate funding, workshops will be held to train approximately 250 individuals to serve in a literacy program, making it possible for more Kambata to learn to read.  
A full Bible will nurture the growth of faith as the Kambata learn the complete story of God's plan for salvation. People in neighboring language communities who can hear and understand Kambata will also be impacted by the Bible. 
GOALS
Translate remaining Old Testament books and finish revision of the New Testament. 
Encourage use of completed Kambata Bible for corporate and individual worship. 
IMPACT
Lives are transformed through Scripture based teaching and ministry. 
The Christian community is growing and maturing in faith. 
Pray for good progress on the remaining translation work.
Pray that people will read and study Scripture.
Pray that the neighboring language communities who understand Kambata will also benefit from the translation.
The Kambata look forward to having the full Bible, but it will not happen without adequate funding. You can help put God's Word in their hands! 
Kambata Bible Translation
Bible translation costs vary based on the project. Operating expenses can vary in different parts of the world and for different portions of Scripture. Put God's Word in their hands!
AVERAGE COST FOR TRANSLATION
$35 translates a verse of Scripture
$1,000 translates an average chapter
Want to get involved?
Contact a recruiter and see
what options are available!