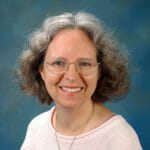 Missionary Janet (Kunkel) Borchard has been a missionary with the Lutheran Bible Translators since 1982 and has literally worked around the world. She first worked with Native American Christians at Taos Pueblo, New Mexico, on Bible translation. After completing that project, she worked with the Dhimba Bible Translation Project in the country of Namibia in southern Africa. Then in 1998 Janet married translator Rev. Terry Borchard and joined him in the highlands of Papua New Guinea to work on the Ipili translation project.
The Path to Become a Missionary
After the launch of Ipili New Testament in August 2008, Terry and Janet worked on various projects to encourage the use of the Ipili Scriptures. They also taught many other Papua New Guineans how to do Bible translation in their own languages. After a long illness, Terry went to be with the Lord in August 2014. Janet faithfully continues her work with the Ipili people through translation and encouraging the use of the new Scriptures. She regularly receives motivation from Revelation 7:9.

"After this I looked and there before me was a great multitude that no one could count, from every nation, tribe, people and language, standing before the throne and in front of the Lamb."
LBT is seeking Lutherans to serve overseas through the ministry of Bible translation and Scripture Engagement. If you feel that God may be leading you towards missions or you wish to make Bible translation donations for a missionary, LBT may have a place for you.
IS IT TIME TO DO SOMETHING?
If you feel that God may be leading you towards missions as a career, we may have a place for you.
If you wish to make a financial contribution to Bible translation, you may do that here.