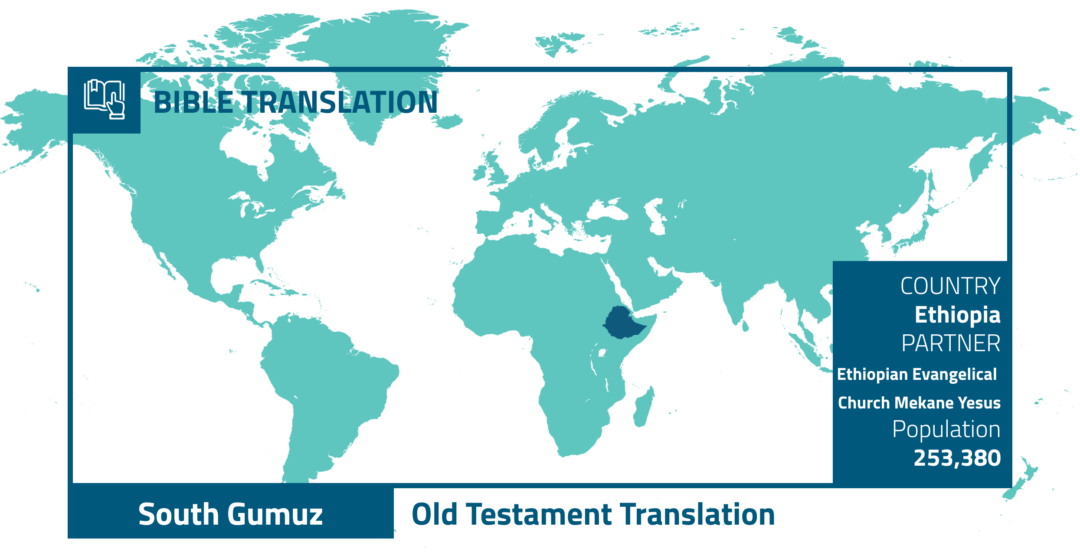 Although the New Testament in the southern dialect of the Gumuz language of Ethiopia is already in use, church leaders serving in this language area see a vital need for the Old Testament as well. A full Gumuz Bible is critical if the Gumuz people are to better understand the foundation of their Christian faith through God's actions and interactions as depicted in the Old Testament. Because the Old Testament shares many common stories with the Qur'an, a full Bible will also serve as a meaningful tool for outreach to the local Muslim community.  
 A translation committee—formed with the cooperation and input of church and community leaders—will oversee the establishment of a translation office, the selection and training of a translation team, and gather the resources and equipment needed for translation work. The Scripture materials produced will assist pastors and youth leaders as they preach and teach through Sunday school, Bible study, confirmation and other worship activities. 
The full Bible in the southern Gumuz dialect will enhance ministry and provide spiritual nourishment throughout the Gumuz language community. 
GOALS
Initiate the translation project through collaboration of church and community leaders. 
Provide Scripture materials to enhance worship and teaching. 
IMPACT
Individuals experience spiritual growth through access to the Old Testament. 
Sharing the Old Testament encourages non-believers to further explore the Christian faith. 
Pray that worship is enriched as Old Testament materials become available to the Gumuz in their language dialect.
Pray for successful outreach to the non-Christian community.
Pray for good health for all involved in the project and productive collaboration as the translation team begins its work.
Having the full Bible will contribute to the spiritual growth of Gumuz Christians and serve as an effective witness to God's love for all people as the community reaches out to Muslims and other non-believers. You can help the Gumuz church strengthen and grow! 
​
South Gumuz Bible Translation
Bible translation costs vary based on the project. Operating expenses can vary in different parts of the world and for different portions of Scripture. Put God's Word in their hands!
AVERAGE COST FOR TRANSLATION
$35 translates a verse of Scripture
$1,000 translates an average chapter
Want to get involved?
Contact a recruiter and see
what options are available!