Amy Formella – Inspiration by God's Word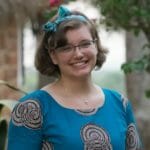 Missionary Amy Formella grew up in Neenah, Wisconsin, the land of the manhole cover, with her three  siblings, where her parents still live. Her mom, dad, stepmom, and siblings have loved and encouraged her, and also nurtured her sense of humor.
In high school, Amy was active in recreational soccer, swimming, a jazz band, and a church youth group. She continued swimming on a club team and greatly expanded her ministry and missions activities at university.  She graduated from Concordia University, Mequon, in 2015 with a degree in Lay Ministry and Theological Languages.
How Amy Found the Path to Become a Missionary
Amy participated in LBT's 2014 Crossroads Botswana trip. Her highly collaborative nature and ability to easily understand other's needs made her a great asset to the team. As Amy says, "in order for people to live eternally with Jesus Christ, they need to know who He is and what He has done for us by having access to His Word. Not only do people need to hear about Christ, but they need to hear about Him in a way that they can understand."
This led Amy to pursue missionary service with LBT. She completed training at the Graduate Institute of Applied Linguistics (GIAL) in Dallas, Texas, in 2016. In 2017 she began service in Sierra Leone, assisting with the Mende Old Testament translation project.
LBT is seeking Lutherans to serve overseas through the ministry of Bible translation and Scripture Engagement. If you feel that God may be leading you towards missions or if you wish to make a donation to a missionary, LBT may have a place for you.
IS IT TIME TO DO SOMETHING?
If you feel that God may be leading you towards missions as a career, we may have a place for you.
If you wish to make a financial contribution to Bible translation, you may do that here.