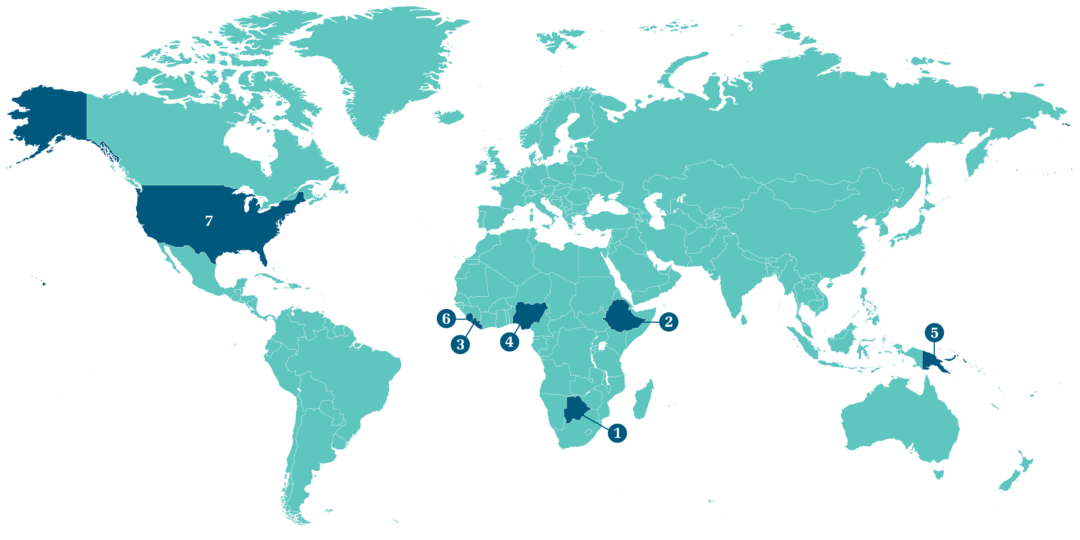 1. Botswana
Pray for the publication and use of the Panoramic Bible in the Khwedam language community.
2. Ethiopia
Pray for the ongoing training of Bible translation students at Mekane Yesus Seminary.
3. Liberia
Pray for the Dan translation team as they continue to work towards their goal of 90% project completion by the end of 2022.

Pray for the Bible Society of Liberia as they visit the Grebo speaking communities to conduct a comprehensive survey that will suggest the appropriate translation need.
4. Nigeria
Pray for the Bokyi Language Committee as they continue to encourage more community involvement and participation in the translation work.

Pray for the Yala translation team as they work to typeset and print a trial edition of the book of Isaiah.
5. Papua New Guinea
Pray for the growing participation in the Waria Multi-Language Project as they hold workshops and training.
6. Sierra Leone
Pray for ongoing training to empower literacy coordinators for effective service.
7. United States
Pray for the International Programs Team as they gather for strategic planning and fellowship.
8. Worldwide
Praise God for the 500th anniversary celebration of Martin Luther's New Testament into German.

Pray for the Assyrian Bible Translation Program as they continue drafting and consultant checking the Old Testament.
March
Lisa Beckendorf
Levi Federwitz*
Calvin Inman
Lydia Derricks*
Tilahun Mendedo
Eliana Olson*
Selah Olson*
Hannah Federwitz*
MaryJane Grulke*
Janine Pluger
April
Tim Beckendorf
Annaka Esala*
Elliot Derricks
*missionary kid
May
Carl Grulke
Berhanu Ofgaa
Mike Rodewald
Tobias Kuhn*
Emily Wilson
Janet Borchard
Michelle Miller
Ali Federwitz
Angela Tayloe
Mike Kuhn
Ken Bunge
Lutheran Bible Translators (LBT) bylaws define who may vote and gives you a chance to participate in nominating and electing the Board of Directors as well as participate in changes to the LBT bylaws (charter document). To see if you are eligible to be a voting member please visit lbt.org/members.
Here you will also find:
• Information about the 2022 election for the Lutheran Bible Translators Board of Directors
• Details on how to request nomination and voting information for the 2022 election
• Information about the Annual General Meeting
Thank you for participating in mission through your membership.