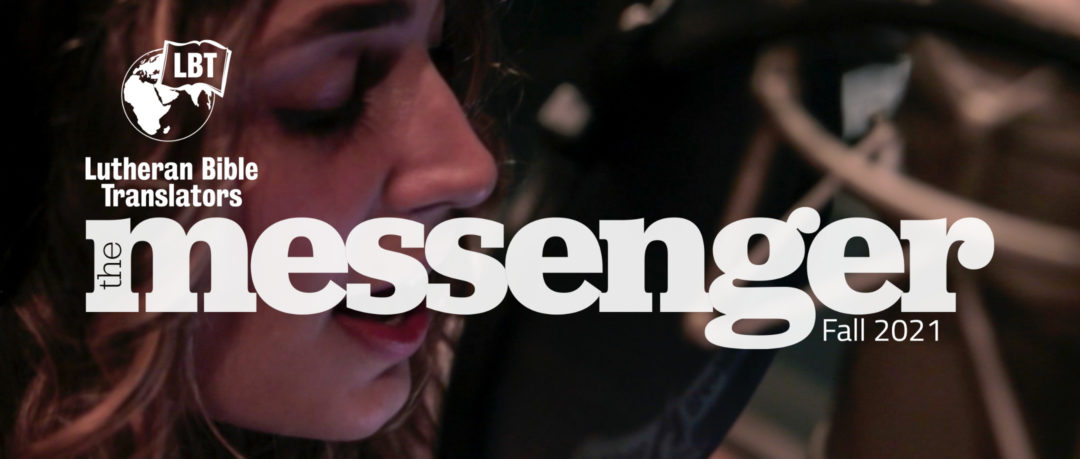 In this issue of The Messenger – learn about a new way to experience Scripture. See how Bible translation work is continuing the Reformation. Discover ways to partner with language communities who are still waiting for God's Word. Celebrate with thanksgiving the generosity of Lutheran women in mission.
From the Corner Office
I grew up in the US learning through observation. I learned that my handshake had a meaning. A firm handshake symbolized strength. It exhibited assuredness and respect.
Then I went to Africa. They had not learned the same rules. They shook hands by grasping hands and snapping each other's middle finger. Snap, snap, snap. It took coordination. They managed it well. I didn't. My firm handshake meant nothing. It accomplished nothing but funny looks.
Words and actions are not always understood the same from culture to culture. They
are not universal. My method of shaking hands did not communicate as I intended. On the other hand, it was only after I experienced their handshake many times that I could understand the relationship and respect indicated through multiple snaps.
God's story of salvation is told with full impact through symbols we understand – the Word coming without barrier. God's story of salvation is for me, you and everyone, no matter what language we use. The result? "…A great multitude, …from every nation, from all tribes and peoples and languages standing before the Lamb" (Rev 7:9).
Thank you for playing your part in God's story of salvation and putting God's Word in the world's hands.
In Christ,



Dr. Mike Rodewald
CEO and Executive Director