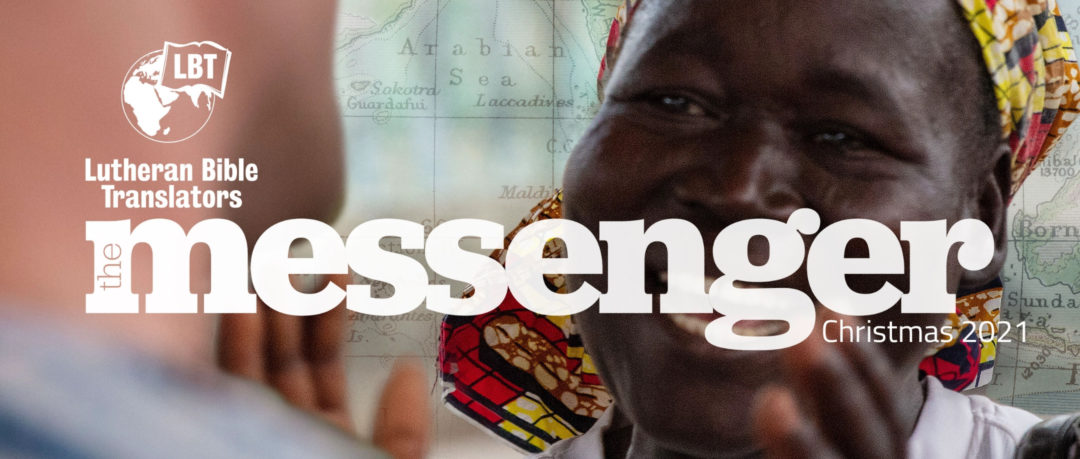 In this issue of The Messenger – discover how God has been preparing the way for translation and literacy work in the Subula community. Learn about Martin Luther's motivation to translate Scripture into the vernacular German 500 years ago. See the impact of Luther's vision continuing as Scripture in Botswana for Shekgalagari speakers. Celebrate with thanksgiving the generosity of individuals dedicated to Serving Our Awesome Redeemer (SOAR).
From the Corner Office
Dear Reader:
"Laa lo li." The young woman's finger followed each word. "Laa lo li la." She looked up and beamed. She just read her first two sentences in her own language.
What is ordinary for me is not ordinary for many. I take it for granted that God's Word is available – in multiple versions. I can read whichever I want.
It was not the same for this woman. Eighteen years old, her husband did not want her to read. She sneaked to an evening literacy class. The kerosene lamps were dim but her face was bright. She finished the primer. She read every reading skill-builder available. She read first drafts of Scripture in her language. She wanted more. 
God sent Jesus for the whole world no matter what language we speak. Many do not know. Women are often most excluded – limited by language.
This young woman heard the story of her salvation best through her own language. It was the same 500 years ago when Luther translated the New Testament into common German. It is the same for you and me today.
The New Testament is now published in her language. The Old Testament is underway. God's Word is now in her language.
In Christ,



Dr. Mike Rodewald
CEO and Executive Director