Episode 31: Enduring Word
Many churches do not know about the ongoing need for Bible translation. Millions of people are still without Scripture in a language they understand. Join the Bible translation movement to put God's Word in their hands.
Mark your calendar. Sign up to receive resources! Bible Translation Sunday is September 26th this year.
Dr. Reed Lessing is this year's sermon contributor for Bible Translation Sunday. He is the Director of the Center for Biblical Studies, a professor at Concordia University St. Paul, and the author of several Old Testament commentaries.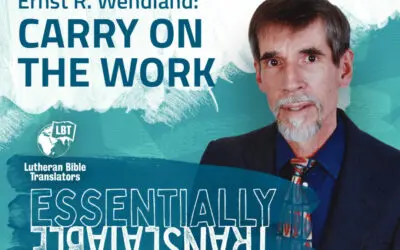 Episode 63: Carry on the WorkSeptember 2, 2022"The opportunity to work with national colleagues — the work on one hand to teach them but on the other hand to learn from them. The greatest joy is to see some of the things that I taught them they are following up on it....