Ebola Crisis Assistance – Our partners…our friends
Lives and well-being of Sierra Leonean and Liberian coworkers are threatened because of the ebola epidemic in West Africa – spreading rapidly and claiming the lives of thousands. We have 28 coworkers in Sierra Leone and over 40 in Liberia. They have years of translation and teaching experience and encourage others to use and understand the Scriptures. The loss of even one worker would be a devastating blow to the mission of God's Word being accessible in the heart language. Because of the ebola epidemic, coworkers are having to find new ways to accomplish their work while keeping themselves and their families safe. For example,
Workers do not own personal vehicles, they rely on shared public transport. You don't know if you are riding with an ebola victim, or in a vehicle that just transported someone who was contagious.
Due in part to curfews, office hours are reduced.
Finding basic food commodities has become difficult, and food shortages increase prices drastically.
Schools are closed and public gatherings canceled.
Emergency funds will be distributed to workers to assist them with expenses such as buying safe food, disinfectants, medicines, extra cell phone minutes to allow working from a distance, and hiring safe transportation. For more details contact Jim Laesch or call 1-800-532-4253 ext. 24.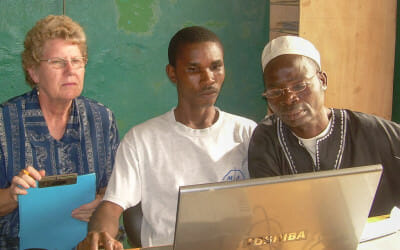 Lutheran Bible Translators has sent Missionary Alvina Federwitz back to work in Monrovia. Alvina has been working in Liberia for 41 years, sharing her skills and passion for all people in Liberia to hear and understand the Scriptures in their own Liberian language.
"Lord, watch over and restore the Ebola victims. Comfort those who have lost a loved one. Keep the doctors, health workers and also LBT's partners healthy. In Jesus name, Amen."