WHY JOIN OUR INTERNATIONAL OFFICE TEAM?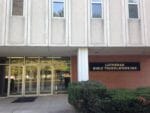 Access | Word of God | Transformation
At Lutheran Bible Translators, we believe access to God's Word brings transformation. We also believe the ministry of Bible translation belongs to the entire Church. By joining LBT's staff, you can be involved in this great mission both at home and abroad.
In everything we do at LBT, we value innovation, professionalism, dialogue, and cultural sensitivity.
Where are the international offices?
LBT's headquarters is based in Concordia, Missouri. The international offices staff is responsible for managing LBT's daily operations, outreach efforts, and missionary support services.
Does LBT offer student internships?
In Concordia, MO LBT welcomes paid internships and unpaid internships in conjunction with college or university credit. Local or remote opportunities could exist in development, communications, IT, administration, the executive's office, and in missionary support.
Internationally If you are interested in an international internship, our team will work with you to see if your skills and passion fit any of the needs our missionaries have on the field. We do not keep a list of international needs published on our website. Instead, we work directly with you and our missionaries on a case-by-case basis to give you a productive role in our ministry in a place where you'll be an asset to the work overseas.
Don't see an internship opening that works for you? Propose your own internship idea!