Hold the Key
Voting Members hold the key to this organization. Voting Members not only nominate people to possibly serve on the board, but they also elect the board members.
You can easily become a Voting Member. There are three eligibility requirements:
You've demonstrated "skin in the game" through a financial contribution in the previous year.
You are a member of a local Lutheran congregation.
You are 18 years old or older.
About the first of February, when year-end tax documents are sent out, we will include a Voting Member registration form with your year-end tax document. Follow the simple instructions and help guide this great organization.
For more information
LBT Board, 2019
LBT board members are experienced professionals with years of experience in business, ministry, and missionary work around the world. Board members are: (starting at front row, left to right)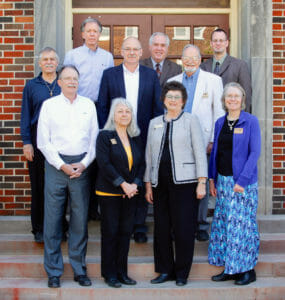 John Rodenburg, Treasurer – Licensed CPA in Illinois; decades of business experience; president of Trinity Springfield and former long time member and treasurer of CID LCMS
Marlis Norton, Vice-Chair – Previously worked in Information Technology project management in the marketing and media arenas; retired and serving in numerous capacities at church and elsewhere
Virginia Von Seggern – Former national president of LWML; registered nurse (retired); former elected member of the LCMS Board for World Missions
Monica 'Nickie' Wilson – USAF Lieutenant Colonel, retired; varied international and domestic mission experience
Paul Mueller – Currently the Executive Director of the Center for Applied Lutheran Leadership and Director of the Mission Training Center, Concordia University, Portland; previously s

erved as Missionary Advisory Council Secretary in Liberia, West Africa, Lutheran Society for Missiology Secretary, Home Council World Mission Prayer League Executive Director, and as a member of the Ethnic Ministries Task Force

Rev. Dr. John Mehl – Previously responsible for leadership of the LCMS World Mission International Program in Eurasia; Director of Mission Partnerships & Church Relations at Concordia University, Nebraska
Rev. Kenneth Greinke – Retired LCMS pastor; former LCMS missionary; previously responsible for regional leadership of the LCMS World Mission International Program
Rev. Dr. David Birner – Currently the Executive Director of International Education in the Office of International Student Services Concordia University, Wisconsin; previously responsible for leadership of the LCMS World Mission International Program in Africa, Asia, Latin America, and Eurasia
David Garrett, Secretary – Served in a variety of capacities with Jews for Jesus since 1981; currently serves as Children and Youth Ministry Director and Missionary at Large
Rev. Dr. Jeremy Pekari, Chair – Senior Pastor at Messiah Lutheran Church in Lynnfield, MA
Rev. Richard Tursic, (not shown) – Currently Pastor of Risen Christ Lutheran Church; previously a CPA and worked among Chinese people for many years in evangelism, church leadership development, and Bible translation promotion, including the kick-starting of a Bible translation project
Paul Zilz (not shown) – Owner of Capstone Insurance Group, LLC; certified consultant for the Carver Model of Board Governance
IS IT TIME TO DO SOMETHING?
If you feel that God may be leading you towards missions as a career, we may have a place for you.
If you wish to make a financial contribution to Bible translation, you may do that here.